Cruise passengers have always appreciated a direct connection to the sea. And our parking facilities are located in the direct vicinity of our terminal. Arrive. Park. Depart. Please follow the signs for "Kreuzfahrtterminal". Parking Zones P1 and P3 are available for visitors to the Columbus Cruise Center.
Baggage check-in is possible at both parking facilities. Please refer to the table below for parking fees. This also includes all necessary information for mobility-challenged visitors. RV parking is available only on request.
P1 | Directly at the terminal
| Duration | Price | Duration | Price |
| --- | --- | --- | --- |
| | | | |
| | | | |
| | | | |
| | | | |
| | | | |
| | | | |
| | | | |
| | | | |
P1 | Parking, pick up, bring
The car park is located directly at the terminal and is video monitored but not guarded. Please follow the signs P1 and take a ticket at the entrance. Then look for a parking space. Please pay for your parking ticket on departure / exit at the two parking machines on the ground floor of the terminal. A reservation is not possible! No liability can be accepted for damages.
P3 | 500 metres walking distance
| Duration | Price | Duration | Price |
| --- | --- | --- | --- |
| | | | |
| | | | |
| | | | |
| | | | |
| | | | |
| | | | |
| | | | |
| | | | |
P3 | Only long-term parking
You can reach another approx. 8000m² large parking lot in 500m walking distance. Please follow the signs P3. You will pay the parking fee at the entrance to our parking lot. (Cash payment, EC-card payment or credit card payment) The parking lot is completely fenced in and partly covered and will be closed after departure of the ship. It is neither video monitored nor guarded by personnel. No liability can be assumed for damages.
Further information & services
Further information & services
Travel carefree with your car!
Our partners will pick it up directly at the cruise terminal and store it safely in a dry hall. They are also your contact persons for transfers and shuttle parking.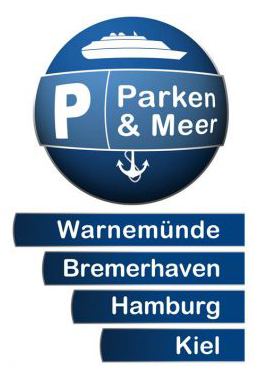 Parken und Meer
Tel: 0471 – 981 992 49
E-Mail: buchung@parken-und-meer.de
Monday to Friday 8-20 hrs
Sat, Sun & Holidays 9am-6pm
You can find further information under:
https://www.parken-und-meer.de/bremerhaven
For mobility impaired guests
On P1 there are 12 designated disabled parking spaces directly in front of the main entrance. Only a blue parking permit (BL, AG) entitles you to park in these areas. Reservation is not possible.
Parking for RVs is possible on request in Zone P3 at a surcharge of 50%. Water and power supplies are not available. Waste and sewage disposal is not allowed. Please direct your enquiries to: terminal@cruiseport.de
With the Deutsche Bahn you travel to Bremerhaven Hbf. Directly in front of the main station in Bremerhaven a bus with the destination sign "Kreuzfahrt-Terminal" is waiting for you to continue your journey and take you directly to the cruise terminal.

Your luggage will be taken from you at the main station by our staff and stowed away accordingly. You will then find them comfortably on your cabin. Of course you can take your hand luggage on board yourself.
Important: Please attach the luggage label with your name and cabin number to your luggage in a clearly visible place before handing it in.
Departures from the main railway station are in accordance with the ship's layover times at: 12:40, 13:40, 14:40 and 15:40, as well as when required.
For TUI departures a shuttle service is arranged from 07:40 to 16:50. (In the period from 08:00 to 11:00 and 13:00 to 17:00, the shuttle service is free of charge for TUI guests). Please note the information in your travel documents.
Adults pay € 7.00 for a single journey. Children up to and including 15 years of age travel free of charge. Tickets are available directly from the driver.
In addition, a shuttle service to the city centre of Bremerhaven is offered every hour during the berthing times from midday onwards. Tickets are available from the driver. The ticket from the station transfer is also valid as a day ticket for this shuttle service. Please refer to the information in the terminal for departure times.
You can also plan your return journey from the ship to the main station in Bremerhaven with BREMERHAVEN BUS. After your arrival, vehicles are available for you directly at the terminal (bus platforms 6 and 7).
If you have any questions, please call 0471 – 3003 500 or vertrieb@bremerhavenbus.de.