News!
Current information from Bremerhaven
Here you will find all the latest news, job offers and information about our cruise terminal in Bremerhaven.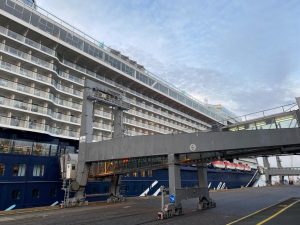 "ms Mein Schiff 2" in Bremerhaven Finally: after several month of cruise calls for repatriation and technical services only Columbus Crusie Center Bremerhaven gladly received Mein Schiff 2 guests and crew on their trip from Hamburg to Gothenburg, yesterday. A big Thank you to all ship- and shoreside partners involved for their excellent cooperation to make the new protocols and regulations work out fine!
Read More »